Reviews of Moonrise Press Books
_____________________________________________________________________________________
About The Maska Dramatic Circle by Phyllis Zych Budka (May 2016)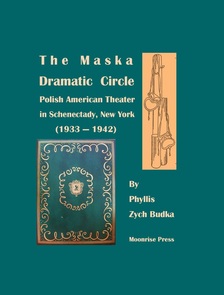 Published in May 2016, The Maska Dramatic Circle: Polish American Theater in Schenectady, New York (1933-1942) is available in large paperback and PDF formats.
ISBN 978-0-9963981-4-5 (paperback), $30, x plus 254 pages
ISBN 978-0-9963981-5-2 (eBook – PDF format), $10 download
RECOMMENDATIONS:
"If we are to have a more complete and nuanced history of Polonia we need more local based sources like the one published by Phyllis Zych Budka. Her focus is the Polish American community in Schenectady, N.Y., a midsized industrial city where she grew up and which does not receive much attention from Polonian historians. Based primarily on her parents' scrap book and Polish and English newspapers, it records the amazing theatrical and cultural achievements of the "Maska Dramatic Club of Schenectady," which from 1933 to 1942 produced more than 50 plays in Polish and, in the process, enriched the lives of Polish immigrants and their children."
~ Dr. Thaddeus V. Gromada, Professor Emeritus of East European History and Past President of PIASA and Polish American Historical Association (PAHA)
______________________________
"Phyllis Zych Budka has provided an account of the young, third-generation Polish-Americans of Schenectady, N.Y. who organized a drama group (Maska) that offered both Polish and Polish-American themed plays in the Polish language. Maska began offering plays to the community in the early 1930s and had a successful run for a decade. At a time when they were fast assimilating into the larger American society, these young people sought to preserve Polish culture and to demonstrate its relevance to the contemporary lives of both the immigrant generation and to their children."
~ Robert R. Pascucci, Ph.D., author of Electric City Immigrants: Italians and Poles of Schenectady, N.Y., 1880-1930
_____________________________
"I will be forever grateful to Phyllis for telling the story of my dad's life before I was born. As a kid, I knew my dad was well-read with a great vocabulary. He read books to me, stepping into character roles, inflecting his voice or changing his accent to portray Tom Sawyer, Ivanhoe, or other characters in the stories. I never knew how he learned these skills, he was just my dad. I also remember him telling about hard times during the Great Depression riding the rails in search of work. I wondered about the story behind the photographs of actors on stage of which he was a part. Now, thanks to Phyllis, I know more about his quote about "the happy days" of his participation in the troupe, the fun he had and the awards he won." ~ Joseph Drapala
---
______________________________________________________________________________________

Grazyna Kozaczka About Meditations on Divine Names in the Polish Review (December 2013)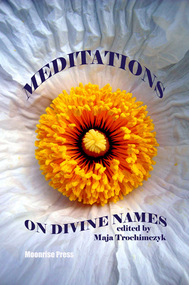 Meditations on Divine Names
offers rich poetic material selected and collected with great sensitivity, by an editor for whom religious belief was not a given, but rather the result of conscious search. Its 140 poems by sixty-four authors represent a variety of religious faiths. The title of this anthology points to some crucial concepts. In several world mythologies, the act of naming, the act that involves language, takes on the power of creation. One can certainly find parallels here with poetic acts of creation. Likewise, many of the poems chosen by Trochimczyk represent thoughtful meditations, prayers or thoughtful incantations that allow the reader a total immersion in the spiritual and move the reader to the emotional response to, and relationship with, the divine."
Grazyna Kozaczka in The Polish Review, vol. 58 no. 4 (2013): 109. Meditations on Divine Names -
An Anthology of Contemporary Poetry edited by Maja Trochimczyk, published in July 2012.
ISBN 978-0-9819693-8-1
Buy it Now ($21)
___________________________________________________________________________________________________________________________________
---
Poet Sharon Chmielarz Recommends Meditations on Divine Names (December 2012)
"The anthology "Meditations on Divine Names" has something for everyone. Maybe it's due to the broad sweep of its title and the way the book is structured, easy access to themes: water, being, loving, She, He, fire, earth, air, names, naming. Maybe it's due to the unending number of names humans have assigned to the Godhead, many listed in G. Bennett Humphrey's poem. And maybe it's due to the editor, Maja Trochimczyk, a self-proclaimed Catholic mystic and usher in her parish. Her heart is open to all intimations of spirituality, not excluding the Nones'. For whatever reason, these poets have responded from their own hopes, often poignantly wry, and their experience in all faiths and religions, enhancing belief with the powers of imagination and Earth's beauty. Poets tend to be compulsive in their writing; they circle here, non-ending, the mysteries of antiquity and truth."

~ Sharon Chmielarz, author of Calling, Visibility - Ten Miles, and other books of poetry (December 2012)
______________________________________________________________________________________________________
Grazyna Kozaczka About the Chopin with Cherries Anthology in the Polish Review (December 2013)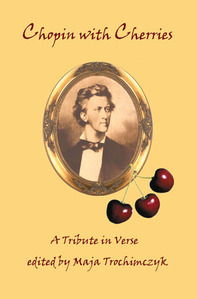 "The book's striking title brings the reader to Trochimczyk's own poem, "A Study with Cherries," where the musical motifs of one of Chopin's etudes transport the poet across space and time to the cherry orchard of her grandparents in Poland and offer her peace and fulfillment.... In Chopin with Cherries: A Tribute in Verse, just a glance at the chapter headings identifies the poetic interests in Chopin. Thus poets find inspiration in a particular musical genre such as waltzes, mazurkas, or nocturnes; they become fascinated by Chopin's life, illness, and death, and his relationship to George Sand; and, finally, they explore their own emotional responses to hearing or playing Chopin's music...."
The reviewer was equally fascinated with visual illustrations from vintage postcards, revealing late 19th-century sensibilities associated with Chopin's music and its expressive world:
"
Chopin with Cherries: A Tribute in Verse
is also rich visually since it is illustrated with many examples of postcards thematically linked to Chopin and his life from Trochimczyk's own collection. This fascinating collection, which reflects early twentieth-century sensibilities and artistic canons, allows contemporary readers to gain an insight into the place Chopin still held in the European imagination, even half a century after his death." ~ Grazyna Kozaczka, The Polish Review 58 no. 4 (2013): 109.
___________________________________________________________________________________________________________________________________
---
Recommendations for The Desert Hat by Ed Rosenthal (November 2013)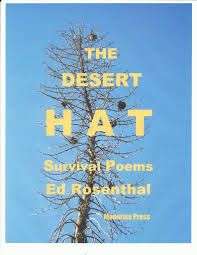 The Desert Hat
- 36 Poems by Ed Rosenthal. 74 Pages, paperback and eBook editions. With 12 photographs of the hat (by Maja Trochimczyk) and the Mojave Desert (by Ken and Wendy Simms). Introduction by Ruth Nolan.
Paperback print edition: ISBN 978-0-9819693-7-4, 74 pages, $15.00.
http://www.lulu.com/shop/ed-rosenthal/the-desert-hat/paperback/product-21238943.html
E-Book, $10.00, ISBN 978-0-9819693-9-8
http://www.lulu.com/shop/ed-rosenthal/the-desert-hat/ebook/product-21239406.html
"Just over three years ago, after making a wrong turn on a hike, Ed Rosenthal, The Poet Broker of Downtown L.A., was lost for 6 days in Joshua Tree National Park. ... The temperature climbed above 100 degrees every day that week. Miraculously, Ed survived. Now, three years later, he has processed the experience. Beautifully. Ed has just published The Desert Hat, Survival Poems (Moonrise Press). And reading it is an astonishing experience in its own right. If Ed has just recounted his dramatic story, that would have been a good read. But Ed is a poet. He gropes for elusive meanings in his transformational desert suffering. Recurring images broaden into symbols, link, and elevate the book into, essentially, one extended poem."

~
Jack Skelley, November 2013,
http://jsprla.com/updates/2013/11/13/surviving-was-a-big-deal-for-downtowns-poet-broker
In "The Desert Hat," Los Angeles poet/real estate broker Ed Rosenthal presents the mythopoetic journey through his real-life experience of being lost for 6 days in remote canyons of the Mojave Desert's Joshua Tree National Park in September, 2010. "The Desert Hat" delves deeply into the wildest and unpredictable heart of the Mojave into a storied landscape that Rosenthal renders as both recognizable to the reader and also deeply specific to his solitary and unanticipated experience, and in these poems, creates an empathetic and spiritually-affirming desert landscape that resonates within all of our desert hearts.
~ Ruth Nolan.
Professor of English @ College of the Desert, California desert poet, writer, editor,conservationist & scholar
Ed Rosenthal's The Desert Hat not only recounts an incredibly vivid story of survival, but maps out the dangerous journeys of the heart and the imagination in that hallucinatory place between mind and body, between nature and man, between the past and the future. Like poet James Wright, Rosenthal "goes/ Back to the broken ground" of the self and finds a stranger there trapped in the cosmology of an endless, unpitying desert. As the stark "sun burns holes/ into the sky" the psyche's true-north compass finds salvation's shade. Rosenthal climbed out of "the busted monster's mouth" with a beautiful, moving book.
~ Elena Karina Byrne,
Executive Director of AVK Arts, author of
The Flammable Bird, Masque
and
Squander
The "poet-broker" Ed Rosenthal was inspired by surviving alone in the Mojave Desert for six and a half days. Rosenthal's poetry does not recount his experience in detail; it is not replete with maps, photographs, and a day-by-day account of his adventures. Instead, we gain an insight into what it means to be truly lost and found, to survive the strangest of desert nights and return to the heart of the city… with a newly found wisdom and zest for life.
~ Maja Trochimczyk, Ph.D.,
President, Moonrise Press
______________________________________________________________________________________________________
---
More Reviews of Chopin with Cherries edited by Maja Trochimczyk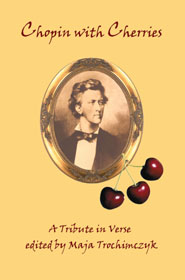 Chopin with Cherries: A Tribute in Verse,
An anthology of poetry edited by
Maja Trochimczyk
. This volume celebrates the 200th birth anniversary of a Polish pianist-composer, Fryderyk Chopin (1810-1849) with a selection of 123 poems by 92 contemporary poets, mostly based in America. The highlights include the first English translation of Norwid's
Fortepian Szopena
by Leonard Kress. With 50 vintage postcard illustrations, poets' biographies, list of cited music, and an index. Read
more
about this anthology. Published in February 2010.
ISBN 978-0-9819693-0-5.
Paperback Edition - $23.00
or
PDF Download - $10.00
. Ebook in preparation.
CHRISTOPHER WOODS, FEBRUARY 2011: "For those who have been moved by the music of Fryderyk Chopin, this new international anthology will be a treat... One breathtaking aspect of the anthology is the diversity of voices, both stylistically and geographically... [Among] the striking aspects of the anthology is the way in which the editor, Polish born Maja Trochimczyk, arranges the various sections, not only by musical forms, but also into sections like beauty and death, words that often come to mind when considering Chopin's life, his passions and his early demise." Christopher Woods in
Contemporary World Literature
5 (February 2011).
ELIZABETH KANSKI, SEPTEMBER 2010: "In Poland, June is the month for Bing cherries (czeresnie) and July for sour cherries (wisnie), but it is Chopin season year-round, especially in 2010, the 200th anniversary of the birth of the great composer. Maja Trochimczyk, Polish American music historian, poet and photographer, decided to celebrate Chopin's birthday in an unconventional manner: with 123 poems by 92 poets, gathered together into a handsomely produced and exciting new anthology." From a review by Elizabeth Kanski, in Polish American Journal, September 2010, p. 21.

ALLISON ROSS, MAY 2010: "What is most striking about this verse tribute is how deftly the editor weaves together the various themes, treatments and styles within the volume, meticulously detailed in the introduction and then presented format-wise in the book... All in all, I am immensely pleased with how this anthology turned out. In fact, it exceeded my expectations, because it is so comprehensive and cohesive. The poems are fascinatingly diverse in voice, topic, content, and style, and the poems reveal such richly individualistic interpretations of Chopin's powerful pathos. . . "Chopin with Cherries" is an anthology to treasure as intimately as one might cherish Chopin's compositions. From a review by Alison Ross, in the Clockwise Cat, May 2010
JOHN Z. GUZLOWSKI, FEBRUARY 2010: "Maja Trochimczyk's Chopin with Cherries... is a masterful celebration of this composer and the complex range of emotions, impressions, memories, and dreams his music evokes... Finally, let me say that I cannot remember reading an anthology of poems centered around a single-theme that I liked more. The poems Maja Trochimczyk has gathered together to commemorate Chopin's 200th birthday are inspiring and exhilarating, as I have already noted, and - I don't know how else to say this - fun to read." From a review by John Z. Guzlowski in The Cosmopolitan Review 2 no. 1 (Spring 2010). Guzlowski's essay in The Cosmopolitan Review is accompanied by a selection of poems from the book including works by: Kerri Buckley, Ryan McLellan, Rick Lupert, Elizabeth Murawski, Ruth Nolan, William Pillin, Katrin Talbot, and Maja Trochimczyk.
---
______________________________________________________________________________________

Review of Miriam's Iris by Maja Trochimczyk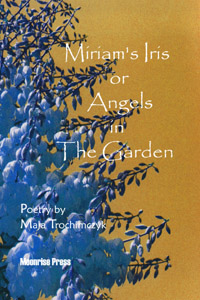 Miriam's Iris, or Angels in the Garden
, Poetry and Photography by Maja Trochimczyk.
A review
of this collection of 60 poems was published by G. Murray Thomas, in the February issue of
poetix.net
. You may read a sample of poems and see selected photographs
here
. Published in 2008. Paperback ($12.40):
ISBN 978-0-578-00166-1
. Hardcover with Color Photos ($48.00):
ISBN 978-0-9819693-2-9.
PDF Download in Color ($10.00):
ISBN 978-0-9819693-2-9
REVIEW BY
G. MURRAY THOMAS, FEBRUARY 2010:
"Rarely does one find a book of poetry which holds together as well as
Miriam's Iris.
Although presented as a collection of individual poems, it reads like it was composed as a whole, as a single poem of multiple parts. . .
Miriam's Iris
is a strong demonstration of how poetry can evoke emotion without getting bogged down in the details of one's affairs. Along the way it provides some wisdom about finding one's place, accepting what one is given." (G. Murray Thomas, Poetix.net, Feburary 2010)
---


__________________________________________________________________________________________________________________________________________________
All photographs and information (c) 2008-2010 by Moonrise Press, Los Angeles. All rights reserved by Moonrise Press. Distribution and sales by lulu.com and its partners.