List of Poetry Books Published by Moonrise Press
Explore Poetry, Literature and Painting with Margaret Saine in Lit Angels, Published in February 2017
Published in February 2017, Margaret Saine's
​Lit Angels
(=Literature Angels ~ Angels of Light) is a collection of poetry inspired by literature and the arts. Written in English, the volume includes several translations into German, Arabic, French and Italian. Poet Mani Suri considers this book as an "elegant, wise, and worldly oeuvre - a distilled reflection of her sagesse and sophistication." Virginia Jasmin Pasalo observes that "like her photography, Ute's poems breathe movement, shadow and light that immediately transports the reader to the experience of moving within the social fabric of her woven words." The book of 96 pages presents over 70 poems and is illustrated with 14 photographs. The first reading is scheduled for Sunday, February 26, 2017 at 4:30 p.m. at the
Bolton Hall Museum, Tujunga, CA 91042
.
Available as: Paperback, ISBN 978-1-945938-02-3, $15.00; Color Paperback, ISBN 978-1-945938-04-7, $35.00, and EBook, ISBN 978-1-945938-05-4, $10.00. ​
_________________________________________________________________________________________
The Rainy Bread. Poems from Exile by Maja Trochimczyk Honor Polish Victims of Stalinist Repressions
"The Rainy Bread: Poems of Exile" by Maja Trochimczyk
includes 30 poems about forgotten stories of Poles living in the Eastern Borderlands of Kresy, who were killed, deported, imprisoned, or oppressed after the invasion of Poland by the Soviet Union on September 17, 1939. Some of these brief portraits capture the trauma and resilience, ordeals and miraculous survival stories of the author's immediate family. Their experiences of displacement, hunger, cold, and poverty during the war are typical of Polish civilians. including those Poles that were deported to Siberia, beyond the Arctic Circle, or to Kazakhstan; who later left the Soviet Union with the Second Corps of the Polish Army under General Władysław Anders; were transported to refugee camps in India or Africa; and ended up in Argentina, Canada, Australia or the U.S. The book is a companion to Slicing the Bread: Children's Survival Manual in 25 Poems (Finishing Line Press, 2014), with which it shares some poems, including vignettes from the author's childhood in Warsaw, permeated by the strange rhetoric of the Polish People's Republic, and still overshadowed by the war.
ISBN 9781945938009
, paperback, trade format 6X9 in, 64 pages, $10.00
ISBN 9781945938016
, eBook, in EPub format, $8.00
_________________________________________________________________________________________
Rose Always - A Love Story inspired by centuries of love poem and mystical traditions (December 2017)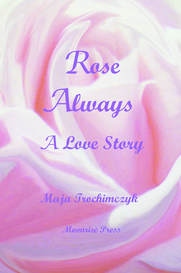 Illustrated with 87 color photos of roses, this collection of 156 love poems is divided into seven parts that chart the ups and downs of a unique and mysterious love story. It is inspired by the mystical poetry of The Songs of Songs and its commentators, as well as Love concepts from the Buddhist and Hindu worlds. The rose of Saint Exupéry's Little Prince makes an appearance, and so does the Sleeping Beauty, accompanied by other charming figures from an array of fairy-tales. Words of favorite poets – Emily Dickinson, Sappho, T.S. Eliot, e.e. cummings, Rainer Maria Rilke, and Czesław Miłosz – are reflected in paraphrases or quotations, along with allusions to Goethe, Kant, and Kierkegaard.
www.lulu.com/shop/maja-trochimczyk/rose-always-a-love-story/paperback/product-23442431.html
. Read a sample of
12 poems here.
ISBN
9781945938177.
Fourth Illustrated Edition. Color paperback, 194 pages, $77. ​
---
______________________________________________________________________________________
Inspiration and Words for Meditation in Into Light by Maja Trochimczyk (July 2016)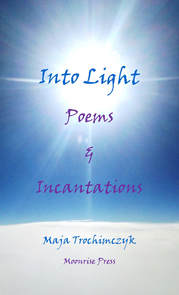 This poetry and meditation collection presents 36 poems and 12 "incantations" that focus on the intertwined spiritual concepts of Light and Love. The poems, initially written within the Catholic mystical tradition of contemplation and adoration of the Divine presence, gradually evolved to encompass a broader scope of spiritual insights, without losing the main focus: reaching out in Love to the One Light, the Source of All. The simple and repetitive meditations and incantations are meant to inspire, uplift, and fill the heart with Light and Love. The book includes poems for group recitation, meditations on light, brief affirmation, meditations on energy centers (chakras), poems about the Cardinal Virtues, about finding love and peace in the busy world, about Eliah, Madonna, whales, the Universe, trees, streams, midnight sky, and more...
Available as a Full Color Paperback of 84 pages in a standard trade size 6' by 9' (ISBN 978-1-945938-14-6
$40.00) and as an E-Book in the
EPUB Format
,
ISBN 978-1-945938-15-3, $10.00).
.
---
_______________________________________________________________________________________
Mud in Magic by Beverly M. Collins Finds Humor and Delight in the Seasons of Life (May 2015)
Beverly M. Collins's "Mud in Magic" is her second poetry book, filled with the wisdom of experience. Her skillful and often aphoristic or narrative poems portray a scene or a character that we could encounter on our streets, in our cafes. The poems are organized into three parts: Thought Bistro (Part I), Tinder Flames (Part II), and Elixir Café (Part III). The beauty and wonder of daily life fill these pages and delight the readers. Beverly M. Collins is fourth in a family of five daughters. Although born in Milford, Delaware, Bev is a Jersey-girl to the bone. She is also a graduate of Taylor Business Institute, a great admirer of Art who carries a deep appreciation and respect for other Artists. As a singer, Collins is a former national finalist for Talent America. As a poet, she is one of three 2012 prize winners for the California State Poetry Society. Her works appear in a growing number of publications, such as the California Quarterly, the San Gabriel Valley Poetry Quarterly, anthologies by Poets on Site, and more.
Paperback: 96 pages,
ISBN 978-0-996398-1-0-7
, $15.00. E-Book: $8.00,
ISBN 978-0-996398-1-1-4
.
______________________________________________________________________________________Clocks and Water Drops by Marlene Hitt - Poetry of Wisdom and Experience (April 2014)
"Clocks and Water Drops" is the first full-length collection of poetry by Marlene Hitt, the first Poet Laureate of Sunland-Tujunga, a former Director at the Bolton Hall Museum, a local historian, poet, and community activist. The book of reflections about her life, family and neighborhood changing through the decades, includes 73 poems in sections dedicated to: Children, Marriages, Portraits, Neighbors, Seasons, Small Things, Passages, and Farewells.The title captures the poet's fascination with the flow of time, as relentless and powerful as drops of water that can shape rocks and move mountains. Poet Jack Cooper praises Hitt's "astute and thoughtful voice" while Kath Abela Wilson admires her "confident and consistent phrasing, and exacting vision."
Paperback edition, $15.00 (+S&H), 118 pp.:
ISBN 978-0-9819693-5-0
. Published in
April 2015.
ABOUT THIS BOOK
"Clocks and Water Drops" is a book of treasured gifts packed in memories and reflections as tasty as homemade bread, fanciful as a rose petal salad and healing as warm camphor oil on a child's skin. Marlene Hitt's astute and thoughtful voice paints a world as gentle as lamb's wool and precious as a girl's fisrt pony. Open this cedar chest of poems, don its knitted socks and prepare to chase the moon through love and time."
~
Jack Cooper,
Author, "Across my Silence"
"Marlene Hitt is a poet beyond measure… she holds each thing to her eye and finds inner correspondences. She finds in the mind - an empty glue, a "back alley" and wonders what words to write, as we all do, on a blank page, or "the bronze grave marker" she buys for herself. Each of her poems works on several levels, and almost always ends with a very interesting surprise or revelation. The significance of each detail is stunning and inspiring. She sees objects as possessing uncanny power. She recalls her feeling that the clock pendulum in the house has captured time with its sound, and stolen it from her own grandmother. By her confident and consistent phrasing and exacting vision, she follows her own life from early childhood to now. She calls upon us as readers to look at her life, and back into our own for the metaphors inherent and active… alive, in all of us today."
~
Kath Abela Wilson,
Poet, Artist, founder of Poets on Site
_______________________________________________________________________________________
The Desert Hat - by Ed Rosenthal, a Unique Story of Survival in the Mojave Desert (August 2013)
This volume of poetry was inspired by a six-and-a-half-day ordeal of Ed Rosenthal, a Poet-Broker, who survived alone after being lost in the Mojave Desert in September 2010. An experienced hiker, he unexpectedly veered far away from his usual route and could not find his way back. He found refuge in Salvation Canyon where he was several times missed by search-and-rescue aircraft and helicopters. Finally, miraculously, he was found by San Bernardino Sheriff's Deputies. The wry, surreal, and reflective poems in
The Desert Hat: Survival Poems
describe the spiritual trajectory of a survivor living through a close encounter with death, starting from alienation in a corporate urban environment and ending with the post-trauma reflections about life and natural environment.
The book consists of 36 poems organized in four sections, reflecting the distinct stages in the spiritual and personal journey, from getting off track, through searching for a way back, hallucinations in a hostile desert environment, finding shelter in the shade of Salvation Canyon, being rescued, and experiencing the world after the return from the brink of death. The title alludes to a canvas hat that Rosenthal used as a notebook and helped the lost poet control his thoughts, capture emotions, and write down his last will and a farewell to his wife and daughter. This is Ed Rosenthal's first book-length publication.
Paperback print edition: ISBN 978-0-9819693-7-4, 74 pages, $15.00.
E-Book, $10.00, ISBN 978-0-9819693-9-8

ABOUT THIS BOOK
"Just over three years ago, after making a wrong turn on a hike, Ed Rosenthal, The Poet Broker of Downtown L.A., was lost for 6 days in Joshua Tree National Park. ... The temperature climbed above 100 degrees every day that week. Miraculously, Ed survived. Now, three years later, he has processed the experience. Beautifully. Ed has just published The Desert Hat, Survival Poems (Moonrise Press). And reading it is an astonishing experience in its own right. If Ed has just recounted his dramatic story, that would have been a good read. But Ed is a poet. He gropes for elusive meanings in his transformational desert suffering. Recurring images broaden into symbols, link, and elevate the book into, essentially, one extended poem."
~
Jack Skelley
, November 2013,
http://jsprla.com/updates/2013/11/13/surviving-was-a-big-deal-for-downtowns-poet-broker
In "The Desert Hat," Los Angeles poet/real estate broker Ed Rosenthal presents the mythopoetic journey through his real-life experience of being lost for 6 days in remote canyons of the Mojave Desert's Joshua Tree National Park in S eptember, 2010. "The Desert Hat" delves deeply into the wildest and unpredictable heart of the Mojave into a storied landscape that Rosenthal renders as both recognizable to the reader and also deeply specific to his solitary and unanticipated experience, and in these poems, creates an empathetic and spiritually-affirming desert landscape that resonates within all of our desert hearts.
~ Ruth Nolan. Professor of English @ College of the Desert, California desert poet, writer, editor, conservationist & scholar
Ed Rosenthal's The Desert Hat not only recounts an incredibly vivid story of survival, but maps out the dangerous journeys of the heart and the imagination in that hallucinatory place between mind and body, between nature and man, between the past and the future. Like poet James Wright, Rosenthal "goes/ Back to the broken ground" of the self and finds a stranger there trapped in the cosmology of an endless, unpitying desert. As the stark "sun burns holes/ into the sky" the psyche's true-north compass finds salvation's shade. Rosenthal climbed out of "the busted monster's mouth" with a beautiful, moving book.
~ Elena Karina Byrne, Executive Director of AVK Arts, author of The Flammable Bird Masque and Squander
_________________________________________________________________________________________
Meditations on Divine Names - A Multi-faith Poetry Anthology Edited by Maja Trochimczyk (July 2012)
"Meditations on Divine Names" is an anthology of contemporary poetry, featuring 140 poems by 64 poets associated with diverse spiritual traditions. Their poems represent: various branches of Christianity, Judaism, Hinduism, Buddhism, Kabbalah, Wicca, Sukiyo Mahikari, and ancient Greek, Egyptian, Hawaiian, and Slavic religions. The book is divided into ten paired sections: Naming, Names, Earth, Water, Air, Fire, He, She, Being, and Loving. The following poets are represented: MJ Adams, Nicholas Alexander, Catherine Auman, Jon B., Marcielle Brandler, Sharon Chmielarz, Joe Decenzo, Carol Dorf, Kate Hallett Dayton, Carl Estrin, Amy Falvey, Elsa S. Frausto, Bill Gillard, Michael Graber, John Guzlowski, Peter J. Harris, Carl Hitchens, Marlene Hitt, G. Bennett Humphrey, Oriana Ivy, Mitch James, Roy Jacobstein, Lois P. Jones, James Levin, Terranda King, Alexis Krasilovsky, Leonard Kress, Sharmagne Leland-St.John, Rick Lupert, Radomir Voytech Luza, Czeslaw Milosz, Rajiv Mohabir, Geoshino Ollscia, Shirley Dunn Perry, Nils Peterson, Lenora Popa, Kate Robinson, Susan Rogers, Mary Kay Rummel, Nicholas Samaras, Peter Shefler, Marian Kaplun Shapiro, Dorothy Skiles, Lee M. Sloca, J.D. Smith, Barry Spacks, Odarka Polanskyj Stockert, Charles A. Swanson, Taoli-Ambika Talwar, Judith Terzi, Maja Trochimczyk, Ann Tweedy, Davi Walders, Martin Willitts Jr., and Kathabela Wilson.
ISBN
978-0-9819693-8-1
paperback, Price: $21.00
ABOUT THIS BOOK
Meditations on Divine Names offers rich poetic material selected and collected with great sensitivity, by an editor for whom religious belief was not a given, but rather the result of conscious search. Its 140 poems by sixty-four authors represent a variety of religious faiths. The title of this anthology points to some crucial concepts. In several world mythologies, the act of naming, the act that involves language, takes on the power of creation. One can certainly find parallels here with poetic acts of creation. Likewise, many of the poems chosen by Trochimczyk represent thoughtful meditations, prayers or thoughtful incantations that allow the reader a total immersion in the spiritual and move the reader to the emotional response to, and relationship with, the divine."
~
Dr.
Grazyna Kozaczka,
The Polish Review
, vol. 58 no. 4 (2013): 109
"Meditations on Divine Names has something for everyone. Maybe it's due to the openness of its title and the way the book is sectioned, easy access to themes: water, being, loving, She, He, fire, earth, air, names, naming. Poets respond from their own hopes, often poignantly wry, and their experience, not excluding the Nones, in all faiths and religions, enhancing belief with the powers of imagination and Earth's beauty." ~
Sharon Chmielarz
, January 21, 2013
"The poets belong to different religions or religious denominations. They see the manifestations of the divine in many aspects of life – personal prayer, religious ceremonies, singing of psalms, family relationships, nature, sun, sky, bread making, loving, and love making. They admire the colors of the sky and the liquid nourishment of water. The clarity of mountain air and the gentleness of human touch. From the four letters of YHWH to Lada or Pele, the anthology catalogs some unusual divine names. Poets reflect on the act of naming, the facts of knowing and unknowing of our God(s). They give testimony to their hopes and beliefs, and share what they find beautiful and inspirational, or, sometimes, disturbing. There is darkness around and death, but the poets look for ways to ascend above, to illumination." ~
Deacon Jim
on the
Deacon's Blog
, August 2012
_______________________________________________________________________________________
Chopin with Cherries: A Tribute in Verse - An Anthology Edited by Maja Trochimczyk (February 2010)
An anthology of poetry edited by Maja Trochimczyk. This volume celebrates the 200th birth anniversary of a Polish pianist-composer, Fryderyk Chopin (1810-1849) in a selection of 123 poems by 92 poets. The highlights include the first English translation of Norwid's
Fortepian Szopena
by Leonard Kress. Published in February 2010. ISBN 978-0-9819693-0-5. Read
more
about this anthology, or see its
Table of Contents (Word doc)
. Reviewed by John Z. Guzlowski in
The Cosmopolitan Review
2 no. 1 (Spring 2010), with a
selection of poems
. Other reviews were published in
International World Literature, Polish-American Journal, and the Clockwise Cat.
ABOUT THIS BOOK
GRAZYNA KOZACZKA,
DECEMBER 2013:
"The book's striking title brings the reader to Trochimczyk's own poem, "A Study with Cherries," where the musical motifs of one of Chopin's etudes transport the poet across space and time to the cherry orchard of her grandparents in Poland and offer her peace and fulfillment.... In Chopin with Cherries: A Tribute in Verse, just a glance at the chapter headings identifies the poetic interests in Chopin. Thus poets find inspiration in a particular musical genre such as waltzes, mazurkas, or nocturnes; they become fascinated by Chopin's life, illness, and death, and his relationship to George Sand; and, finally, they explore their own emotional responses to hearing or playing Chopin's music...." (The Polish Review, 58 no. 4, 2013).
CHRISTOPHER WOODS,
FEBRUARY 2011: "For those who have been moved by the music of Fryderyk Chopin, this new international anthology will be a treat... One breathtaking aspect of the anthology is the diversity of voices, both stylistically and geographically... [Among] the striking aspects of the anthology is the way in which the editor, Polish born Maja Trochimczyk, arranges the various sections, not only by musical forms, but also into sections like beauty and death, words that often come to mind when considering Chopin's life, his passions and his early demise." Christopher Woods in
Contemporary World Literature no. 5
(February 2011).
JOHN Z. GUZLOWSKI, FEBRUARY 2010: "Maja Trochimczyk's
Chopin with Cherries
... is a masterful celebration of this composer and the complex range of emotions, impressions, memories, and dreams his music evokes... Finally, let me say that I cannot remember reading an anthology of poems centered around a single-theme that I liked more. The poems Maja Trochimczyk has gathered together to commemorate Chopin's 200th birthday are inspiring and exhilarating, as I have already noted, and - I don't know how else to say this - fun to read." John Z. Guzlowski in
The Cosmopolitan Review
2 no. 1 (Spring 2010).
_____________________________________________________________________________________________________
Miriam's Iris, or Angels in the Garden - by Maja Trochimczyk (October 2008)
A book of poetry and photography by Maja Trochimczyk. This poetry collection describes a spiritual evolution, symbolized by the appearances of six angels: Amor, the angel of romance; Eros, the angel of desire; Eloe, the angel of sorrow; Thanatos, the angel of death; Ellenai, the angel of consolation; and Sophia, the angel of wisdom. Nature mysticism illustrated in vignettes of poems and photos. Published in 2008. Read a sample
here
.
ABOUT THIS BOOK
"Rarely does one find a book of poetry which holds together as well as
Miriam's Iris
. Although presented as a collection of individual poems, it reads like it was composed as a whole, as a single poem of multiple parts. . .
Miriam's Iris
is a strong demonstration of how poetry can evoke emotion without getting bogged down in the details of one's affairs. Along the way it provides some wisdom about finding one's place, accepting what one is given."
~
G. Murray Thomas
in Poetix.net, Feburary 2010

________________________________________________________________ ONLINE CHAPBOOKS & ALBUMS
______________________________________________________________________________________________________________________________________________________
All photographs and information (c) 2008-2015 by Moonrise Press, Los Angeles. All rights reserved by Moonrise Press. Distribution and sales by lulu.com and its partners.